back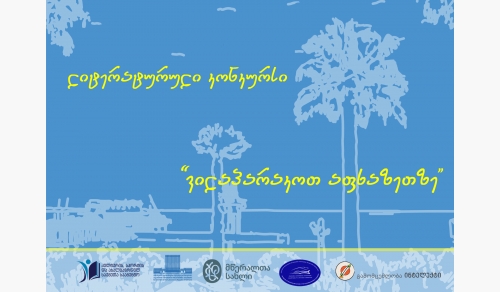 28 July 2021
Let's talk about Abkhazia
The Writers' House and Culture, Sports and Youth Affairs Agency of Abkhazia are announcing a literary contest "Let's talk about Abkhazia".   
The aim of the project is to raise awareness among adolescents about conflict zones and occupation of Georgia, to remind them that people living in the occupied territory are our fellow citizens, with whom we share a common historic past. Even three decades after the fall of Sokhumi not only political and diplomatic relationships can't be stabilized, there is almost no connection between Abkhaz and Georgian youth, with passing years it becomes more difficult to maintain historical relationships and for new generation Abkhazia is slowly becoming a historical past.  
 The inspiration of the literary contest was a book "Let's talk. 33 stories about Abkhazia", edited by Irakli Shamatava and published by Intelekti Publishing. This book and contest share one idea – to talk to a new generation not about war, but about peace and about what was before.  
Young people aged 16-18 years are eligible to participate in the contest, they will have to go through several stages.
The participants must send their own literary works about the topic of Abkhazia.
The works for contest must meet the following terms:
The work must be in Georgian and relevant to the topic of the contest;
The work must be typed in MS Word, in Sylfaen or similar font, font size 12. The number of words in the text must not exceed 1000;
Together with the works, the applicants must send the following data: name, surname, age, contact telephone and electronic mail;
The works must be sent to the following email address: Culture@csya.ge;
The deadline of applications is September 15.
The confidential jury will 10 contestants, who will be announced on September 25. The finalists of the literary contest will move to the improvisation round, they will spend two days together with modern Georgian writers in informal environment and will have the opportunity to meet modern Georgian writers who write about Abkhazia.
In Improvisation round, according to the assignment given by the contest jury, the contest finalists will have to create fiction works in predefined time, which will be published as one book at the end of the contest. At the conclusion stage, the authors of best works will be announced and will be awarded special prizes.
The partner of the literary contest is Intelekti Publishing.