back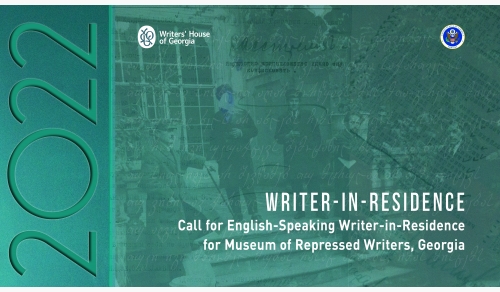 15 November 2021
Call for English-speaking Writer-in-Residence in Tbilisi
2022 Writer-in-Residence in Tbilisi, Georgia
Overview

In Spring 2022, The Museum of Repressed Writers will open at the Writers' House in Tbilisi, Georgia, with support the U.S. Embassy. This museum seeks to uncover and make available to the public many previously unknown life histories and concealed details about repressed writers through research currently underway by the Writers' House and The Soviet Past Research Laboratory (SOVLAB). This project also seeks to raise international appreciation about Georgia's rich tradition of literature and resistance and illustrate a common US-Georgian cause in countering historically revisionist narratives.

As part of this program, Writers' House seeks a writer with relevant background to visit Tbilisi for a multi-week residency. While in-country, the writer may conduct additional research about Georgian writers that were repressed during the Soviet period, reflect on research uncovered, or comment on the international relevance of the project through articles and/or interpretive pieces for publication in both United States and English-language outlets in Georgia. As this program is supported by the U.S. Embassy, preference may be given to writers the United States, but all interested applicants are encouraged to apply.

The residency can be adapted to the applicant's specific interests. Visits to relevant areas outside of Tbilisi can be arranged.

This project is launching at time of historical revisionism that distorts and recasts experiences during a critical period that recent generations are often unaware of. To counter recent examples of disinformation in the South Caucasus, the United States seeks to promote concrete and historically accurate portrayals of Georgian history and to reaffirm Georgia's identity as a fiercely independent, democratic country with a history of resisting foreign dominance. The project is committed to both rigorous, historically accurate scholarship and to transparency and engagement with the broader Georgian public.

This residency is a joint effort between the Writers' House of Georgia and the U.S. Embassy in Georgia and reaffirms the steadfast commitment to the United States' and Georgia's strategic partnership.

Description of right candidate:

The right candidate will be one with a strong interest in the area and relevant themes. Journalists, researchers, and writers are all welcome to apply.

The following commitments are required:

• Ability to fully commit to a full month of researching and writing
• One magazine article about the new museum for publication of 2000 words in length
• 3 short articles for local press
• 2 public appearances to introduce writer to community (university, public events, etc)
• 1 public reading

Writers may incorporate the residency into larger projects if this scope is made clear in the application

Writer-in-Residence Application Guidelines

The Writers' House is now accepting applications for the 2022 Writer-in-Residence. The residency will run for at least 4 weeks (extensions may be requested) March to September 2022, dates to be confirmed after ion.

Obligations of Writers' House

• Room and board (breakfast)
• $1500.00 (gross) honorarium
• Flight and return ticket

All applicants must be:

• Have strong writing skills comfortable with teaching/mentoring.
• Have strong and demonstrable interest in a relevant area (i.e. Soviet history, regional literature, repression of literature etc.)
Application Package should include:
• A cover letter introducing yourself and a short exposition on what would make you a good choice for the residency (1 page max)
• A short proposal for possible topics based on areas of interest and expertise (1 page max)
• Statement of intent, including length of visit, flexibility of dates, timeline. (Only proposals with proposed dates between March thru September 2022 will be considered). If the residency will be a part of a larger project, please include these details here.
• Resume or CV
• A two-page writing sample (this may be an excerpt a larger work.)
• Letter of recommendations are accepted but not required

Application submission instructions:

• Email applications as PDF or Word .doc, .docx to Natasha Lomouri at nlomouri@writershouse.ge, and Ryan Sherman at shermanrm1@state.gov
• Applications will be accepted until midnight, December 15, 2021 (Tbilisi Time)
• Subject line: Writers' House Residency