back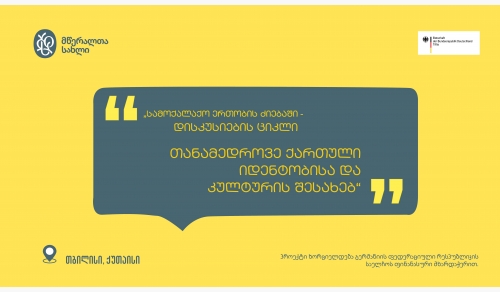 22 October 2021
In Search of Civic Unity - A Cycle of Discussions on Contemporary Georgian Identity and Culture
The Writers' House, with the financial support of the Embassy of the Federal Republic of Germany, is starting a project - "In Search of Civic Unity - A Cycle of Discussions on Contemporary Georgian Identity and Culture."
The aim of the project is to reflect on the last 30 years in the context of culture and civic rights, reduce the confrontation and radicalism in the society, to raise issues that are less talked about by the Georgian society, or, in contrast, cause heated discussions time to time; also, to review essential texts of modern Georgian literature in terms of basic human rights and freedoms.
The first discussion of the cycle "Orthodox Church in the Years of Independent Georgia" will be held on October 27, at 18:30, at the Writers' House.
Speakers: Sergo Vardosanidze - Doctor of History and Theology, Professor; Ketevan Rcheulishvili - Sociologist, PhD student at Ilia University; Moderator: David Jishkariani - Historian, Visiting Lecturer at Caucasus University.
We will discuss how the Georgian Orthodox Church met the independence of Georgia, the policy of the First Republic of Georgia towards the Church and the processes that developed in the church after Georgia was occupied by Russia - our society knows little about these issues.
Together with the participants of the discussion we will try to look at this most important part of our history and discuss what experiences can be shared this three-year period the history of the Georgian Church.
Only fully vaccinated or tested (PCR) citizens will be allowed to the discussion