back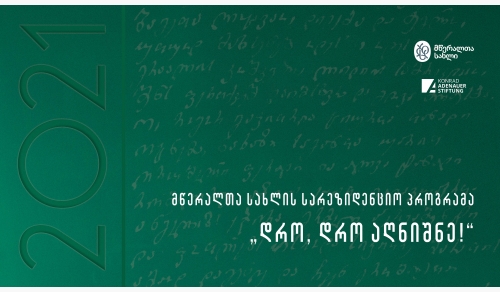 20 October 2021
The winners of the Writers' House Residency Program are known
The Supervisory Board of the Writers' House has announced the winners of the residency program, "Celebrate Time, Time!":
Tsira Barbakadze / writer, literary scholar;
Lexo Doreuli / literary scholar;
Irma Tavelidze / writer, translator;
Nikoloz Shengelia / writer;
Alex Chighvinadze / writer.
October 25 to December 10, 2021, they will live in the residence of the Writers' House and work on publicistic articles, which will be published on the website of the magazine "Arili".
The Writers' House will provide accommodation of winners at the residence, meals and a scholarship of 1000 GEL.
The project is being implemented by the Writers' House, and with the support of the Konrad Adenauer Foundation.
The aim of the residency program is to encourage writers and publicists to describe the present day, the problems and difficulties that Georgian society faces today, and to find ways to reduce the existing confrontation.