back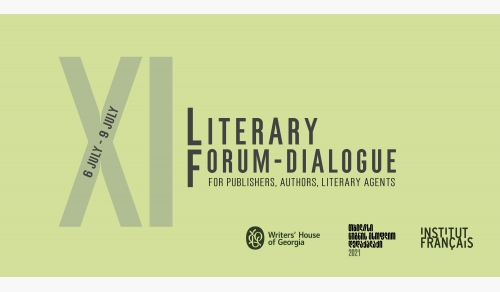 01 July 2021
The 11th Annual Literary Forum-Dialogue will be held July 6 to July 9
With the support of Ministry of Culture, Sports and Youth of Georgia and Tbilisi Book Capital, the Writers' House will organize the 11th Literary Forum-Dialogue on July 6-9.
The main goal of the literary forum-dialogue is to popularize Georgian literature abroad, which means increasing the international awareness of Georgian authors and selling the copyrights of their works, as well as promoting the translation process and thus developing the field of Georgian publishing. This year, 7 guests France and Italy will visit Tbilisi for this event: publishers, copyright managers and literature agents:
Joachim Schnerf - Éditions Grasset
David Gressot - Actes Sud
Patrizia Chendi - Marsilio Editori
Camille Dumat - Éditions Belfond
Dorothy Aubert - Éditions Belleville
Yves Torres - Les éditions du Typhon
Sophie Langlais - BAM Agency
A special program has been developed for the invited foreign publishers: meetings with Georgian authors, publishers, literary critics, representatives of partner organizations, a visit to the National Museum, a cultural tour of Old Tbilisi, and more.
Within the framework of the Literary Forum-Dialogue, in 2011-2020, more than 150 publishing professionals different countries visited Georgia, as a result of which a number of copyrights were sold abroad.
The French Institute is the partner of the 11th Literary Forum-Dialogue.